5-Point Posture Checklist to Avoid Back & Neck Pain
5-Point Posture Checklist to Avoid Back & Neck Pain
Written By Arora Family Chiropractic on March 22, 2021
---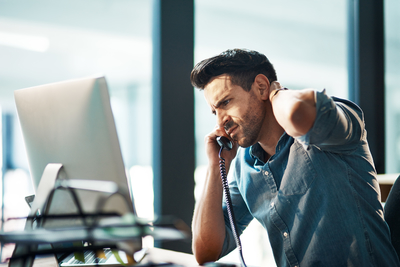 One of the biggest downsides of a desk job is the discomfort that comes from sitting in a chair all day.
By the time work wraps up, you're dealing with a stiff neck and back pain that makes it difficult to do everyday chores. So, why is this happening? Unfortunately, it's all to do with your posture.
The Risks of Poor Posture
Poor posture can cause a plethora of health issues, including:
Neck & back pain: Slumping over at a desk can cause a great deal of discomfort.
Spinal deformity: Poor posture over time can lead to issues like scoliosis or kyphosis.
Digestive issues: Food's transit through the intestines slows when the body is slouched.
5 Ways to Adjust Your Posture When Working From Home
There are a few simple things you can do to correct your working from home posture to prevent back and neck pain moving forward. Luckily, these are all easy adjustments.
1. Bring the Computer Closer to Your Face
Your computer screen should be about 30 inches from your face. This way, you won't be contorting your body or straining your neck to see the screen. The keyboard should also rest at the edge of your desk so you aren't reaching for it.
2. Raise the Monitor to a Higher Level
Another easy adjustment is to bring the computer monitor to eye level. Raising the monitor to a higher level will reduce strain and prevent the muscles in the neck from overworking themselves.
3. Sit Against the Back of Your Chair
Don't sit in the middle or on the edge of the chair. Instead, sit against the back of the chair, ensuring the spine and pelvis are in alignment. Feet should also be planted firmly on the floor. This prevents slumping.
4. Move Your Forearms to the Arm Rests
Resting your forearms on the desk or having them floating above the keyboard is a big no. Doing this means the muscles in your upper back will be working all day to maintain the position. It's better to rest the forearms on the armrests of your chair to avoid the need for back pain treatment later on.
5. Invest in Ergonomic Equipment
The right chair can make all the difference in how you feel. Invest in one that will provide the support your body needs. You may even want to get an ergonomic keyword, which is contoured and has a dedicated place to rest your wrists.
Need Back Pain Treatment Due to Poor Posture?
These tips are ideal if you want to prevent pain in the future. However, if you're in need of back pain treatment due to poor posture, chiropractic care can help. The team at Arora Family Chiropractic is happy to come up with a treatment plan for your needs.
Schedule a consultation today.

Posted In: Chiropractor Neck Pain Treatment Workplace Ergonomics