Low Back Pain Treatment with Chiropractic
Low Back Pain Treatment with Chiropractic
Written By Arora Family Chiropractic on May 18, 2020
---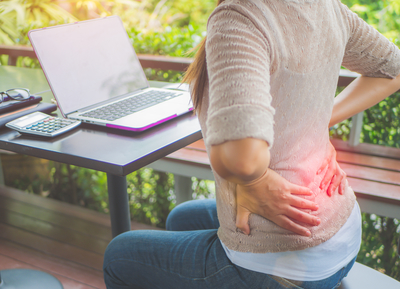 Of the 22 million Americans who receive chiropractic care each year, about 35 percent are seeking relief from back pain.
Lower back pain can occur after a sports injury, a car accident, muscle strain, or it can be a symptom of conditions such as sciatica or arthritis. While back pain is a common problem among Americans, it isn't one that you should feel the need to grit your teeth and bear. Minor strains and injuries may heal on their own, but if your back pain is a symptom of another condition, that pain could worsen or lead to other symptoms.
Chiropractic lower back pain treatment is a safe and effective way to let your body heal naturally while addressing the concern causing the back pain.
What Does Chiropractic Treatment for Low Back Pain Involve?
Your lower back pain treatment will be based on the diagnoses of your pain and your medical history. Treatment plans are tailored to each patient based upon their specific needs.
Chiropractic low back pain treatment may include physical therapy, targeted exercises, and hands-on spinal manipulation techniques, also referred to as chiropractic adjustments. Chiropractic adjustments involve high velocity, short thrusts that are applied directly to the vertebra. The "popping" noise that you hear during an adjustment is the audible release of gas that is built up in the joint. The release of this gas releases pressure within the joint.
Targeted exercises may also be suggested. These exercises typically involve stretching or strengthening back muscles. Ice or heat therapy may also be used to increase blood flow to your back and promote healing.
Finding the Best Low Back Pain Treatment in Frisco
Chiropractic low back pain treatment targets the cause of your back pain. Dr. Puneet Arora pursued a career as a chiropractor after seeing others needlessly suffer from back pain. He approaches each patient with a focus on restoring their optimum nervous system function, which then allows their body to heal naturally.
Are you searching for chiropractic low back pain treatment? Don't put up with pain. Contact our office today at (214) 618-7746 or schedule an appointment online to find relief.

Posted In: Chiropractor Low Back Pain Treatment